"Believing anything in life is fated is just a way to avoid taking responsibility."
This was actually not originally my pick from Book of the Month Club for November 2018 but I kept coming back to it when I was choosing my pick for December. I feel comfortable saying that I did not make a mistake doubling up on books in my December box (see my review of No Exit by Taylor Adams here).
It was the perfect marriage – until everything went wrong.
Book Info
For Better and Worse by Margot Hunt – author's website
Published: December 2018
Publisher: MIRA
ISBN-10: 0778307905
ISBN-13: 978-0778307907
Genre: Thriller/Suspense
CW: mentions of pedophilia
Ratings
Would recommend: YES
Summary
On their first date as law students Natalie and Will fantasized about getting away with murder. Now, many years later their marriage feels like it is falling apart more and more each day. The only thing that seems to be holding their family together is their son Charlie. So it is only natural that when a child predator threatens their community Natalie takes the matter into her own hands and Will has no choice but to help.
Review
My favorite part of the book were definitely the characters. A lot of background characters fit a very cliche stereotype (the suburban mom going to hot yoga etc. etc.). Even the main characters were almost carbon copies of something you are bound to see on TV. And yet… there was something original about the way they had to either fully lean into or completely break out of their preconceived roles when under pressure. Nat managed to make me so invested in her idea of what is wrong with the justice system. Will made me so dissapointed in him in the best ways possible. I loved how imperfect for each other they were. It is hard to read a book that doesn't make one cringe at the forced marriage drama. Nat and Will were just unlucky in so many ways.
This book was a perfect example of a three act structure. From the exposition, through the rising action and the subsequent denouncement Hunt hit the nail on the head perfectly every time. She also tied in a switch between Nat narrating and Will narrating in the perfect points to really raise the tension. We often think that tension is best served in this fervent quick paced tempo. For Better and Worse mixes the cool, calculated thrill of an organized mind trying to plan a murder with the panicked fervor of someone who is guilty and keeps making mistakes that could cost them their lives.
If there is one think about this book I wish was different it is definitely the ending. From all the events leading up to it I have to say that the ending was a bit unexpected and abrupt to me. I felt a little unsatisfied. Don't get me wrong – the ending made sense and I think there was no other way that Hunt could have ended the book based on her set up. I just wish she took a little more time getting there.
Conclusion
I think this will definitely be one of my favorite reads of 2018. The characters are deliciously flawed yet Hunt manages to make their failures less cringe-worthy than I expected. Their behaviors elicited real emotional reactions from me (annoyance, hate, empathy, and so much more). The action flows beautifully through the whole novel. The tension perfectly ties itself with the slow sizzle of a failing marriage and the daily hustle and bustle of suburbia.
Have you read For Better and Worse? Is vigilante justice your cup of tea? Leave a comment below! (Please keep comments spoiler free)
Also by Margot Hunt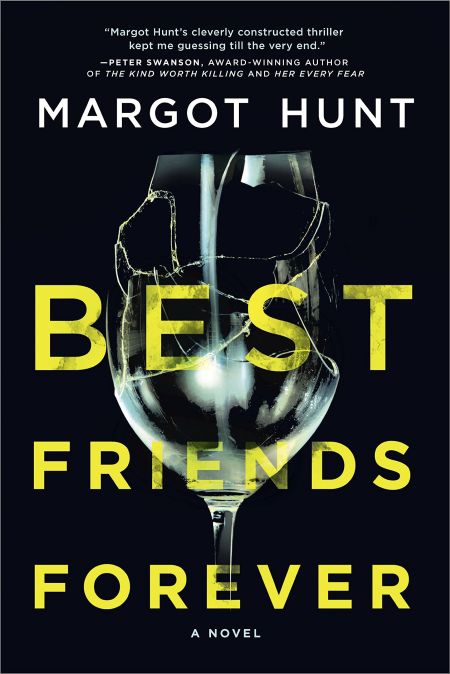 Best Friends Forever by Margot Hunt
"Do we ever truly know the people closest to us?"
"Alice Campbell is a coolly logical former math professor now leading a suburban life as a stay-at-home mom. When she meets Kat Grant, a charming and charismatic heiress, the two become fast friends. "
"When Kat's husband Howard falls to his death off the second story balcony of their Jupiter Island mansion, the police treat his death as a murder. Alice is determined to figure out what the police know before they can cast the blame on Kat. But suddenly the police are more focused on where Alice was on the night Howard died . . . and Kat has stopped returning her phone calls."
"To save herself, Alice is forced into a battle of wits with her best friend, where truth and lies are used as weapons, and the only rule is that she can't trust anyone."